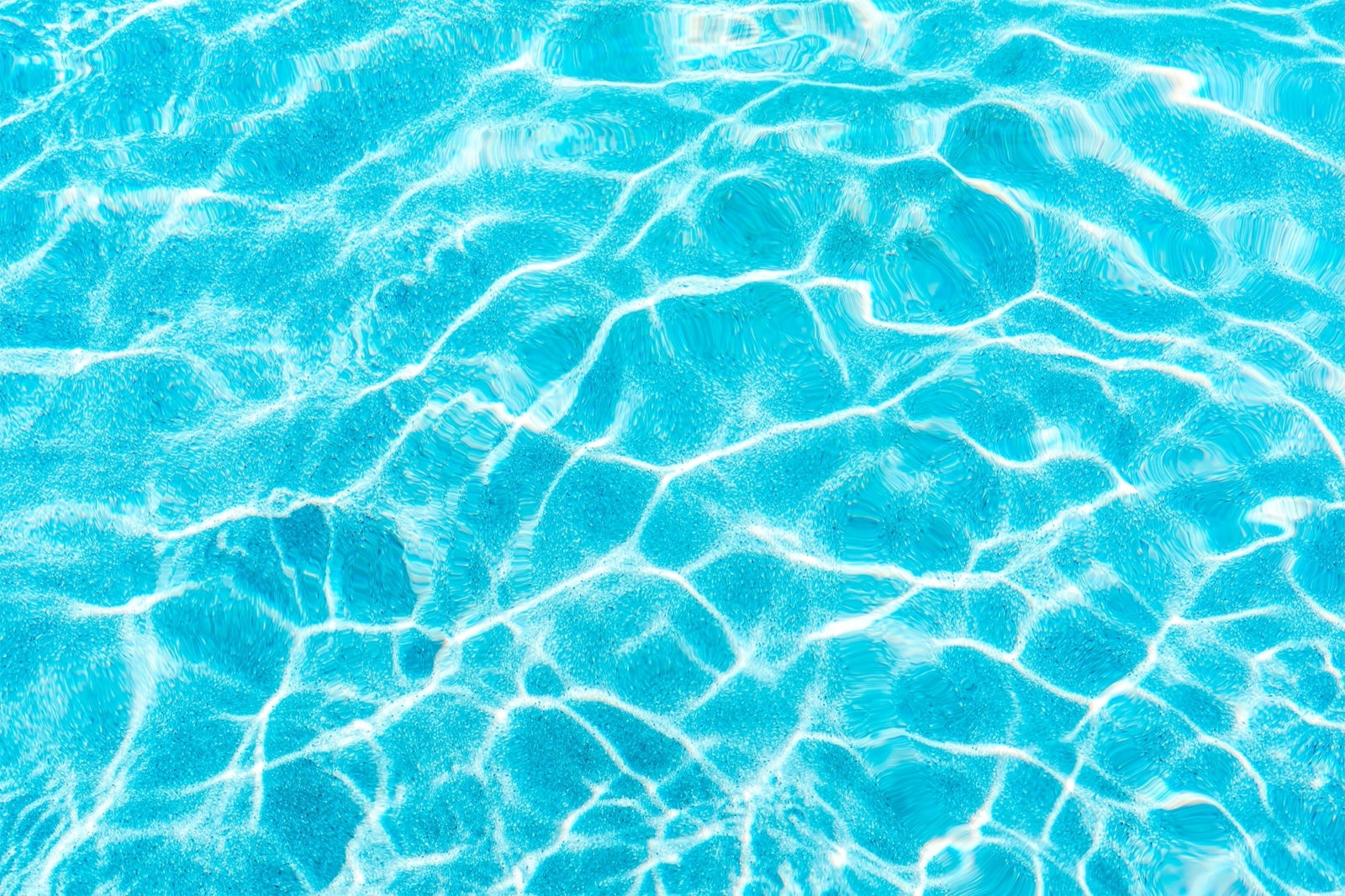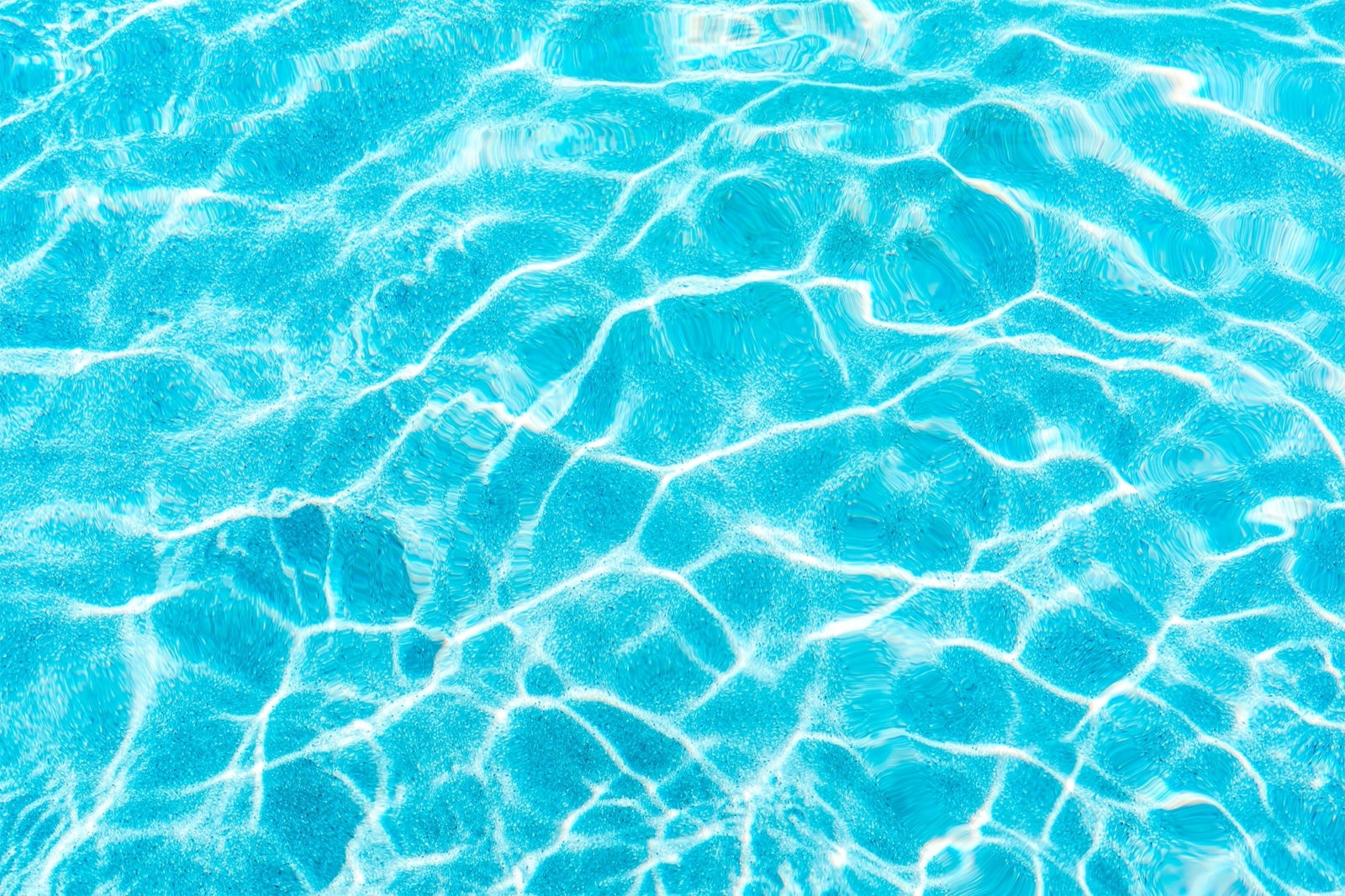 Contact Info: Jenna Varner, Aquatics Program Supervisor 912-489-3002
By joining the Aquatics team at Splash in the Boro, you will have the responsibility of ensuring the safety of the guests while enjoying the opportunity to work in a fun environment. The Aquatics team is full of fun, energetic, and hard working people. If you enjoy working in an exciting outdoor environment and meeting a bunch of new people, then the Aquatics team is right for you!
JOB DESCRIPTION: Employees will be responsible for the safety of all patrons at our facility by preventing and responding to emergencies while providing excellent customer service.
– Non-Starfish Certifications can be accepted, but please contact our office for inquiries​
BONUS: You can be a Swim Instructor too!
Slide Attendant - No longer accepting applications as of 5/26/22
JOB DESCRIPTION: Employee will oversee the safety of guests by monitoring slide attractions to prevent accidents.
JOB DESCRIPTION: Employees will plan and coordinate activities to provide a structured swim team program.
Water Aerobics Instructor
JOB DESCRIPTION: Employee is responsible for developing and conducting different types of aquatic aerobics classes.
Supervisor/Contact Info: Aquatics Guest Services Supervisor
guestservices@splashintheboro.com
912-489-9051
The Splash Guest Services team is the first contact and impression that the guests have with Splash. Daily positions within include but are not limited to the Front Gate, Ticket Booth, Gift Shop Retail, Season Pass, and Group Sales. Guest Services team members sell tickets and season passes, regulate entrance into the park, and assist guests with any questions or information regarding the park. In addition, the Guest Services team is responsible for answering incoming park calls, scheduling and checking in groups, assisting guests with birthday, cabana and group reservations.  However, the most important role is providing be best customer service experience to all the guests in the park. Guest Services staff are energetic, outgoing, friendly, fun loving, loud, spontaneous, good with kids, witty, and most of all, a lot of fun!  In addition, they need to have a thorough knowledge of the park and a willingness to help all guests. There is a high emphasis placed on guest service and exceeding guest expectations in person and over the phone. Team members need to be detail oriented, friendly, professional, and self-motivated.
JOB DESCRIPTION: Employees will work in several areas such as; telephone reservations, selling retail in our gift shop, selling tickets at the front, checking guests in at turnstiles, assisting as a cabana, birthday or group host and entertaining guest as Splashy the mascot.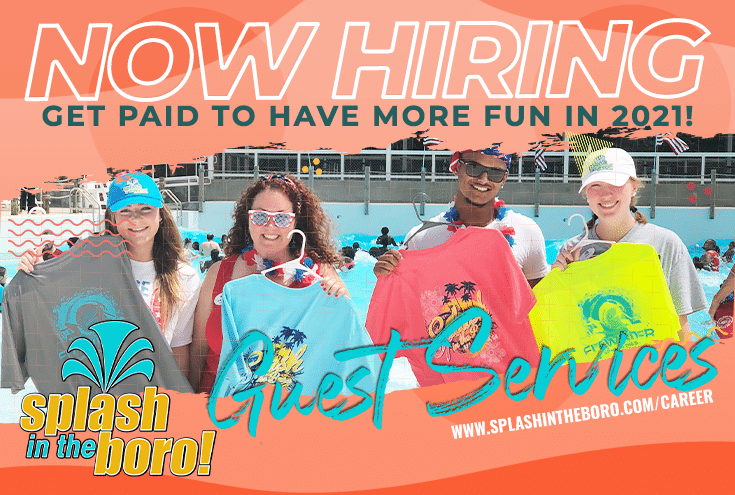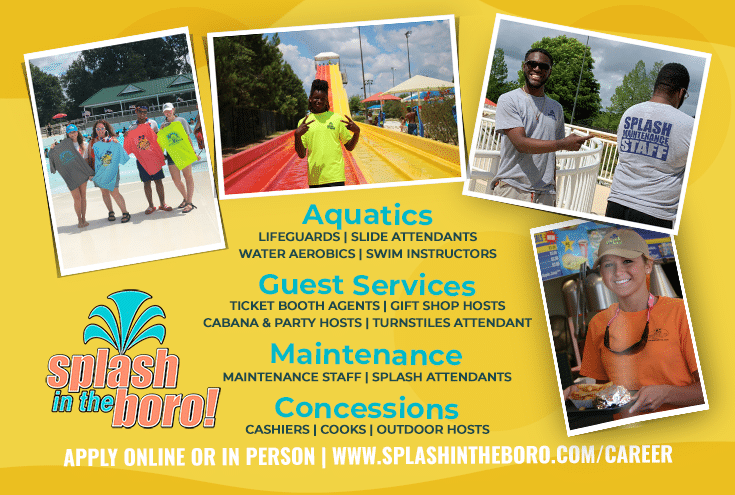 Concession team members work in a fun, entertaining, fast paced work environment and produce delicious meals and snacks, ranging from hamburgers to ice cream for our guests. Departments within Concession include Athletics stand, Ag Arena stands, Splash in the Boro stands and special event concessions. Team members will learn customer service, cooking skills, and cash handling skills. Concessions team members need to be friendly, outgoing, efficient, enjoy being an outdoor environment, good at handling cash, work well with others, responsible, fun and maintain a positive attitude.
Concessions/Server/Cook/Outdoor Hosts
JOB DESCRIPTION: Employees will offer Mill Creek Park & Splash in the Boro visitors fast, friendly, and accurate food service.
Supervisor/Contact Info: Allen Smith, Aquatics Maintenance Supervisor,
asmith@bullochrec.com 912-978-0525
The Splash Maintenance team is the backbone of the water park. The Maintenance team members are always on top of things, making sure the attractions are working, safe and the pools are clean & crystal clear. If this sounds appealing to you or if you like working outdoors and/or fixing things, the maintenance team is for you!
Aquatic Maintenance Worker
JOB DESCRIPTION:Employee will be responsible for facility and pool maintenance.
Aquatic Park/Bathroom Attendant
JOB DESCRIPTION: Employee will help us create a memorable experience for guests by ensuring a clean and safe environment